Lawn Care & Landscaping By Dreamscapes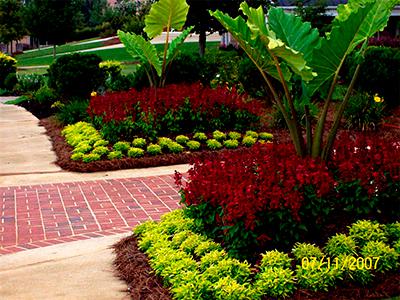 Image is everything to our clients and to us at DreamScapes. That's why DreamScapes gives you a full service staff trained to handle our customers' needs and wishes. We have a burning desire to create beautiful and functional outdoor living spaces and enhance our customers' landscapes and lifestyles. Integrating outdoor living with plush plantings and luxurious lawns.


Lawn Service
At DreamScapes, our lawn service teams are trained to provide quality lawn care for your property. We are constantly incorporating lawn care practices that assure the best results. Your lawn areas stand out with clean edges, health and vigor, and lush green grass.

ANOTHER VIDEO - "ONLY MOTHER NATURE DOES IT BETTER"


Professional Lawn Care
DreamScapes Professional Full Service Lawn Maintenance Programs start with continued education, respect for nature, and attention to detail. With 20 years experience in the landscape industry, we have developed a system that enables DreamScapes to give a consistent proactive approach to full professional service lawn care. This enables us to bring any landscape to its full capacity, resulting in healthy and beautiful lawns and plants.


Landscaping And Landscape Design
A landscape is an extension of the home and should reflect each client's personal style, whether it's a spacious outdoor living area or an intimate garden spot. Beginning at the front entrance, meandering through the landscape, with destinations such as an entertainment area, an outdoor kitchen, an elegant pool, a natural waterfall, an engaging play space, or a colorful flower and vegetable garden, we have designers who can bring your dreams to life. DreamScapes connects you with your outdoor setting.


Outdoor Living
DreamScapes will create a one of a kind setting for outdoor entertainment. Each and every individual space is a piece of art that encourages interaction, discovery, and a connection to nature.

With over 30 years of experience in landscape design, DreamScapes brings outdoor spaces to life. From Landscape Architecture and garden design to skillful installations, DreamScapes artfully builds upon the inherent beauty of the natural environment. As a full-service Landscape Design-Build firm, your vision "from start to finish" is rooted throughout the entire experience, with the highest standards in design, engineering and budget considerations.

DreamScapes offers Atlanta's best in Landscape Architecture, garden design, construction, installation and maintenance.

For All of your landscape needs and For more information, contact DreamScapes today.
CALL 678-574-4008.