About Us
The DreamScapes - Only Mother Nature Does It Better
Experience DreamScapes' Lawn Care and Landscaping Service
DreamScapes Design, Build and Maintenance Company started in 1995 out of the owner's home in Acworth GA. DreamScapes is proud and excited about our great success and continued growth in the landscape industry. We have become one of the most respected landscape and lawn care companies in the Atlanta area. Our b passion and desire to provide the best service money can buy and our profound love for this craft makes it fun and easy to provide a great experience for all of our customers.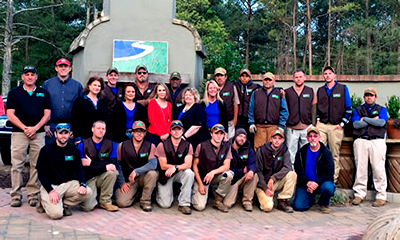 The Dreamscapes' Staff
The Best Landscape Practices
DreamScapes' vision from the start was to become highly regarded in our field, to provide the best landscape and lawn care practices, and to produce the best results. All of our services are performed by our trained experts to standards that aim to meet or beat our customers' expectations every time and to provide exceptional customer care that is personal and professional.

We service Acworth, Kennesaw, Marietta, Woodstock, Dallas, Emerson, Cartersville, Canton, Atlanta, GA and neighboring cities.


Landscape Maintenance Experts
Our landscape installation and maintenance departments complement and educate the other because we do maintain most of our Design Build projects for many years after the initial installation. From this, we are able to learn which plantings work best in certain locations and the proper care required for each. We use this information to create great training lessons for our landscape experts, and continually educate our staff in horticulture and best installation practices. We work hand in hand with the University of Georgia's Extension Agency to help us meet every new challenge and accomplish our mission.


The Art of Landscape Architecture
Landscape Architecture is our art. We can design and build the yard, garden, or outdoor living space of your dreams, a place where your family and friends can meet, play, swim, eat and relax. We thrive on challenging designs that inspire us to think and dream of a creative solution that is unique and meets your goals.

If you want high quality, customized services at a very competitive landscaping cost, Thrive is the company to call. Feel free to contact us at this number: 678-574-4008, or connect with us via this Online Form to send us your requests and queries and we will respond without delay.
Counties/Cities That We Service In Georgia (GA)
Cities that Qualify for Larger Design Projects: