Lawn Care
Dreamscapes Guarantees Our Services Will Benefit Your Lawn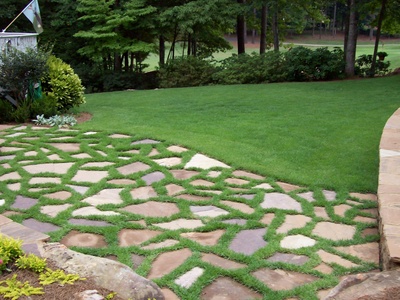 Dreamscapes' Green Up program is the best in the industry and it all starts with our thorough lawn and ornamental analyses of your landscape. Dreamscapes will then use that information to customize a program to handle your immediate needs. We then follow up with monthly inspections to insure a minor issue doesn't turn into a large problem. For Green Up lawn pricing you can get an instant quote. Our custom program will encourage healthy plant growth so you need not worry about having brown patches on your lawn or difficulty in controlling insect infestation. We always work promptly and arrive at your property in proper uniform and fully equip with lawn care tools and equipment. We adopt systematic procedures to avoid disrupting your normal daily activities or damaging landscape features and other outdoor structures in your property.


Environmentally Responsible Lawn Care
A thick lush healthy lawn doesn't mean just randomly applying fertilizers and pesticides to achieve the desired results. We start every new account with soil analysis that is analyzed by the University of GA. This is the only way to properly form a program that will give desired results, and take care of a lawn or landscape responsibly. This is how we are environmentally responsible.


Soil Analysis & Core Aeration to Help Your Lawn
The soil analysis will tell us what nutrients are or aren't needed, and how much to apply to achieve great results. We also include core aeration as part of our program, not an added service. Core aeration is great for your lawn because it allows oxygen, water, and nutrients to flow freely into the root zone. This encourages healthy root growth which increases water and nutrient absorption, reducing fertilizer run-off into our creeks and water supply. When we do fertilize, we only use phosphorous-free fertilizers, which also help protect the water supply. In addition, we take a preventive approach in dealing with pests, which reduces and eliminates the need for pesticides.


Our Green Up Guarantee
If for any reason you are not completely satisfied with the results of our Green Up landscape services, we will provide the corrective service at no additional charge. After 30 days, should your landscape problem persist, we'll continue to provide service at no additional charge until you are satisfied, or we will refund your last regular service payment.

*





*

This guarantee is conditioned upon you following your landscape specialist's instructions and following proper watering and mowing techniques.


Our Green up Replacement Guarantee
If your lawn or ornamental shrubs are permanently damaged due to insects or disease while under the care of our monthly Landscape Service Program, we will REPLACE THE DAMAGED TURF OR ORNAMENTAL SHRUBS WITH SUITABLE PLANTS. Customer satisfaction is our top priority and our work always meets the highest quality requirements while also including fresh ideas.

Residential and commercial property owners can have the best-looking lawn in their neighborhood or enjoy lush and vibrant scenery all year round with our professional help. You will be charged reasonable rates but still get a well-cared for and maintained lawn and landscaping area. Dial 678-574-4008 now or drop by at our office to personally discus your lawn's needs.
Counties/Cities That We Service In Georgia (GA)
Cities that Qualify for Larger Design Projects: